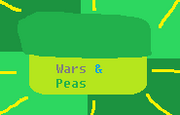 Wars & Peas
NOTE: This is a Young Plants story.
Characters
Sunflower
Peashooter
Wall-Nut
Snow Pea
Crazy Dave
Story
Peashooter: Hi guys! I found this!
Peashooter holds up Wars & Peas
Sunflower: What is it?
Snow Pea: It says... War... squiggly line... Peas.
Wall-Nut: You said Pee! Hahahahaha!
Snow Pea: Shut up!
Wall-Nut: No, YOU!
'Wall-Nut and Snow Pea start fighting'.
Peashooter: STOP HITTING EACH OTHER!!!
Peashooter: Anyways, let's open the box!
Peashooter opens the box, and finds a warning
Peashooter: Snow Pea, can you read this, please?
Snow Pea: It says... If you are not eight-teen or younger, you are not allowed to play this board game. How old are we?
Sunflower: Me and Peashooter are three, Wall-Nut is five, and you are four.
Crazy Dave comes out of the lawn
Crazy Dave: What are you kids doing? And why do you have my board game?
Crazy Dave: No matter. I'll keep that in Penny.
Crazy Dave takes the Wars & Peas board game
Sunflower: let's sneak into penny!
All but sunflower: HOW?!?
Sunflower: idk
Wall-nut: heck with it let's buy ice cream!!
  At the ice cream shop....

Person at ice cream shop: Hi, would you like war and peas jr.?
All: Yes!
Peashooter: Read how to play this!
Snow pea: Get out the toy pea-shooting gun and see who gets hit first.
 ==five minutes later...==

Snow pea: Take that!
Pea shooter: Ya? We'll take this! And THIS!!
Sunflower: Ha! Shot you wall-nut! Hey! Why u have so much helth?
Wall-nut I'm a wall nut, I have lots of health, how else am I supposed to block zombies?
Sunflower: ohhh...
Crazy Dave: HEY WHAT ARE YOU KIDS DOING!!!
All: playing war and pee jr.
Crazy Dave: you know my rule about playing that!??
All: no.... (whispers) ohhhh noooooo..
Crazy Dave: You have to let me play!
All: whew!

Later...
All: take THAT and THAT YA Come ON walnut!!
Ad blocker interference detected!
Wikia is a free-to-use site that makes money from advertising. We have a modified experience for viewers using ad blockers

Wikia is not accessible if you've made further modifications. Remove the custom ad blocker rule(s) and the page will load as expected.