The Plants vs zombies adventures is an amarican tv series on channels sutch as cartoon network. his series is based on the pvz game by popcap in this series in a country where tons of cartoon and video game characters live and tons of zombies invaid called character land, The plants and sunflower fight the zombies and their leader Dr.Zomboss who allways makes crazy inventions and hates the plants.
PILOT:
The plants need to combat all the zombies and eager gorge zomboss as he uses his crazy inventions to defend character land. But every day zomboss makes crazy inventions to take over the world. But is always stopped by the plants.
---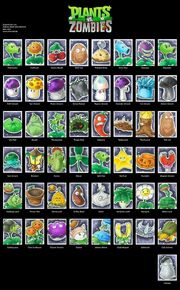 Characters:
Main:
Peashooter
Sunflower
Cheery bomb
Wall-nut
Potato mine
Snow pea
Chopper
Repeater
Puff-shroom
Sun-shroom
Fume-shroom
Grave buster
Hypno-shroom
Scardy-shroom
Ice-shroom
Doom-shroom
Lily pad
Squash
Threepeater
Tangle kelp
Jalapeno
Spikeweed
Torchwood
Tall-nut
Sea-shroom
Planturn
Cactus
Blover
Split pea
Starfruit
Pumpkin
Magnet-shroom
Cabbage-pult
Flower pot
Kernel-pult
Coffee bean
Garlic
Umbrella leaf
Marigold
Mellon-pult
Gatling pea
Twin sunflower
Gloom-shroom
Cattail
Winter Mellon
Gold magnet
Spikerock
Cob cannon
Imitator
Villains:
Zombie
Flag zombie
Conehead zombie
Pole vaulting zombie
Buckethead zombie
Newspaper zombie
Screen door zombie
Football zombie
Dancing zombie & disco zombie
Backup dancers (1&2)
Duckey tube zombie
Snorkel zombie
Zomboni
Zombie bobsled team
Dolphin rider zombie (the dolphin's a zombie too)
Jack-in-the-box zombie
Ballon zombie
Digger zombie
Pogo zombie
Zombie yeti
Bungee zombie
Ladder zombie
Catapult zombie
Gargantuar
Imp
Dr.Zomboss (main villian)
Background:
Peashooterhead zombie
Wall-nuthead zombie
Plant head zombies
Background zombies
Crazy Dave
The citizens of character land
Sunflower sez
Their's a segment in the series called sunflower sez in each episode where sunflower tells some safety tips and what you should do if something's happening
Ad blocker interference detected!
Wikia is a free-to-use site that makes money from advertising. We have a modified experience for viewers using ad blockers

Wikia is not accessible if you've made further modifications. Remove the custom ad blocker rule(s) and the page will load as expected.