By Theinvisiblehotdog.
Characters
Me
All Plants
Football Zombie
Conehead Zombie
Regular Zombie
Screen Door Zombie
Jack-In-The-Box Zombie
Giga-Gargantuar
Story
Me: *asleep*
Chomper: Wake up!
Me: *still asleep*
Chomper: Wake up! Wake up before i eat you!
Me: Gah! Pleasedon'teatmeiwon'tdoanythingelsebecauseiwillfaint!!!
Chomper: What?
Me: Please don't eat me i won't do anything else because i will faint.
Chomper: Ok. *jumps down and faceplants* Ow!
Zombies: *banging on the fence*
Sunflower: Hurry! Go outside with us!
Me: *runs outside* *long gasp* No! *view changes to the fence* Zombies!
All Plants: We'll take care of this!
Garlic: Just stay inside.
Me: Ok. *runs inside*
After an all-out battle with a wave of football, conehead, normal, screen door and jack-in-the-box zombies...
Me: How long does it take for plants to beat some zombies?
Giga-Gargantuar: *breaks the door*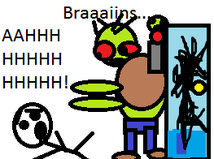 Me: AAAAAAAHHHH!
Join us next time in episode 2 to see what happens!