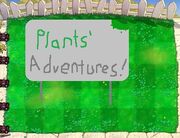 Plants' Adventures!
Edit
Characters
Edit
Peashooter
Sunflower
Chomper
Cactus
Peashot
Plant Pot Car
Balloon Zombie
Butler Zombie
Edgar
Peashooter: Ugh... How long is it until we GET THERE...
Chomper: QUIET, WILL YA?! I have to sit here in this car while it's blazing hot, and I don't want to get a headache from YOU!
Cactus: That was mean, Chomper.
Plant Pot Car: Guys, where are we going..?
Sunflower: He has a point. where ARE we going?
Peashot: I accidentally... left the map at the house...
Chomper: YOU WHAT?! You idiot, moron, imbicile! HOW COULD YOU?!
Peashot and Chomper are arguing
MEANWHILE, AT ZOMBOSS' LAIR....
Edgar: BUTLER ZOMBIE!
Butler Zombie: Yes, sir?
Edgar: SEND IN ONE OF OUR ARIEL SPIES!
Butler Zombie: Yes, sir...
Butler Zombies sends in a Balloon Zombie
Balloon Zombie: Heeelou suur.. wat iz ur ordarz?
Edgar: Spy on the plants. Here is a Plant GPS.
Balloon Zombie: Yezz suur...
Will the plants get to their destination, or not and try to get eaten? Tune in next time for the next installment of...
Plants' Adventures!
This is Issue #2.
Do not edit this without my permission! I will undo ANY edits!
Ad blocker interference detected!
Wikia is a free-to-use site that makes money from advertising. We have a modified experience for viewers using ad blockers

Wikia is not accessible if you've made further modifications. Remove the custom ad blocker rule(s) and the page will load as expected.