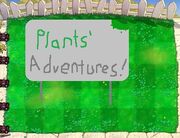 Characters
Edit
Homeowner
Peashooter
Sunflower
Chomper
Cactus
Peashot
Plants are having a good time
Peashooter: Ah man, Sunflower! This party was a good idea!
Sunflower: Thanks, I think you boys needed it.
Homeowner walks in
Homeowner: Forget the party, you guys need a vacation!
Peashot: Vacation? HAH! You wouldn't last 5 minutes without us!
Homeowner: Wanna bet?
Peashot: Sure!
Plants get in their Plant Pot cars, and leave
Will the Homeowner be able to fend off the invasion?
Tune in next time for the next installment of: Plants' Adventures!
This is my first Fan Fiction!
Do not edit this without my permission! I will undo ANY edits!
Ad blocker interference detected!
Wikia is a free-to-use site that makes money from advertising. We have a modified experience for viewers using ad blockers

Wikia is not accessible if you've made further modifications. Remove the custom ad blocker rule(s) and the page will load as expected.